Alberta Mortgages have changed.
Get the mortgage & financing you deserve today.
Alberta Mortgages and Lending made easy.
Getting a mortgage in Edmonton, Leduc, Pigeon Lake, St. Albert, Sherwood Park and anywhere across Alberta for your first home, acreage or land, renewing or refinancing your mortgage, vacation properties or consolidating your debt has never been easier.
We're not your typical Alberta mortgage company
I offer customized mortgage products and services, in terms you can understand. We've changed mortgages for the better, so you can worry less and live life to the fullest.
Knowledgeable, Fast and Friendly Service Alberta Mortgage Services
Fast pre-approvals
Speed matters. Which is why I help verify your pre-approval quickly.
Learn More
Total Transparency
"What you see is what you get." No hidden fees, no hidden meanings.
About me
All of us together now
I offer products and services designed to put my clients first. Always.
Get in Touch
Questions?
I am here to help
I love answering your questions. Call, email or chat – ask me anything.
Don't wait.
Start saving!
Once I have determined your mortgage needs, I will find you the best mortgage options at the best rate possible.
Learn More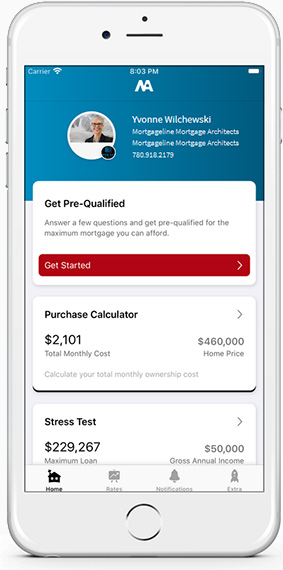 Download my Alberta Mortgage Planner App
Eliminate the Stress of Getting a Mortgage in Alberta
Whether it comes to determining your monthly payments, affordability, or the income required to qualify or closing costs, our app has what you need right at your fingertips!
Download the MY MORTGAGE PLANNER app & get pre-qualified for a mortgage in under 60 seconds.
Proud Supporter of My LuvPak Edmonton
Each Year Approximately 5,800 Kids In Alberta Must Be Rescued From Threatening Home Situations. These Children Frequently Enter Foster Care With Nothing Of Their Own, Often Transporting What Little They Have In A Garbage Bag.
My LuvPak's aspiration is to provide joy, hope & comfort to all children coming into care, or who are affected by poverty and homelessness. By providing a Luvpak filled with hand-picked belongings to call their own, we aim to bring a sense of self worth to each child.
Learn More
Excellent 'service' and attention to detail. You walked us through everything so there were no surprises at all. Highly recommended for sure!

Amanda and Jim

Great Brokerage!!!!!!

Oleg Shwartz

Love you guys !! You have helped us in every way and never to busy to answer a call or text ,, thank you to all of you with getting us our mortgage and line of credit we needed for the Renovations ,,

Monica Clark

My partner and I were able to purchase a great home for the very first time with the help of Yvonne. Thanks to the hard work of Yvonne and the whole team, we were able to complete the deal!

Courtney Rupertus